PROFESSIONAL VOICE OVER DEMO AND VIDEO DEMO PRODUCTION!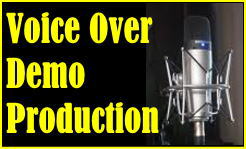 Request voice over demo production service and save real cash at VO101. All VO101 voice over demo productions and video demos are personally produced by Anthony Reece
Listen to recent demo samples and request your new voice over demos today.
Here is the voice over demo production process and package;
-pre-planning voice over demo production consultation by zoom, skype or telephone
-suggestions on how to best approach the right voice over demos for you
-creative input, and/or a mix of your quality "on-hand" voice over demo content
-review of your on-hand past voice over demos or video archived content if any
-co-creation of your semi-customized voice over script and/or new demo content
-optional production of new voice over demo content as single clips
-master and delivery of professional voice over demos finals in  MP3
Be Heard as a Professional Voice Talent: As a new voice over talent, or veteran voice artists, there is nothing more important than investing in a "high quality" unique voice over demo that reflects YOUR voice over ability as a voice talent. It must show your full voice over range, as a voice artist! Request voice over demo production today.
Order your demos today. Anthony personally produces all voice over demo production.
Voice Over Demo Services: Options include single audio demos, video demos and/or multiple genre demos.
NEW  for 2022 – Video Demo Reel Demos

are produced using your "supplied audio demos, supplied video clips, supplied animation clips, or other supplied video clips" saved in mp3, m4a, m4p, mp4. avi, or mov formats. These demos are then created using short pieces or excerpts, or stock video clips edited from supplied or stock content depending on the demo ordered. The final is then mastered as 2:00 video demo in mp4 or .m4p formats for use on your professional website, YouTube channel, or mobile phone.
Sizzle Audio Reel Demo is produced to WOW the prospect using 10 to 12 short :05 to :06 sec voice over drops. These are then produced as short audio files, delivering a fast paced, mind blowing ride to the listener. Order as many as you like and each is produced as a single Sizzle Reel.
Single Audio Genre Demo are usually produced as "individual genre specific" demos, which are created to showcase a category like radio, tv, games, cartoons, audio-book, telephone, station imaging, how to, etc. Select from 1 to 6 single genre demos.
Combo Audio Demo showcase a collection of Broadcast Voice Overs, Narrations, Audio-Books, and Characters and are used to showcase categories and industry specific genres. This demo theme offers your listener a range and combination of several genres as shared herein.
Production ONLY Audio Demo includes use of your best already produced and supplied "on-hand content" and are created using pre-produced content into new original demos.(new voiced content is not included)
Voice Over Demo Production Process: Here are the typical creation steps with Anthony.
1) Consider and select a voice over demo production package, make payment and set-up a time for talk.
2) You explore and review on-hand demo worthy material available from your archives and send to Anthony.
3) As needed semi-custom "scripts" are created and supplied to record, and send back more content.
4) After review of clips, Anthony offers feedback and you re-record content in need of re-cuts for demos.
5) Final content is then produced and mixed with any agreed to 'on-hand' clips as a new master demo.
6) You receive a long, and short version of demos, plus all single MP3 files if requested.
Now that is REAL bang for the buck as a voice talent!
* DIRECTING NOTE: If you desire LIVE recording direction via  Zoom Video or Skype with Anthony, this option is charged at $50 per hourly session. Typically the voice talent records the voiced content using the co-created semi-customized voice over demo script and his supplied direction to save money. Works perfectly!
* YOU CAN DOWNLOAD A GENERAL DEMO PRODUCTION PROCESS SHEET HERE
So as you will hear, whether you require a combination voice over demo, single genre voice demo, or a pack of multiple voice over demos, Anthony will deliver personally produced voice over demos at affordable rates.
———————————————————————————————————————————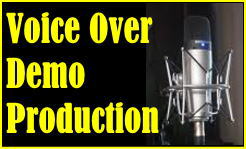 * CLICK AND LISTEN TO RECENT VOICE OVER DEMOS PRODUCED BY ANTHONY HERE!
———————————————————————————————————————————
Here are some things to keep in mind about the demo service!
Typical Turn-around Time is 7 to 10 Days from Submission of Recorded and/or Voice Content.

Specialty Genre Targeted Voice Over Demo Production Services are Available.

Each Demo Includes 10 – 12 Individually Produced :15 – :30 Second Clips Per Demo.

Production Only Demos are

Created as supplied "existing on-hand audio content".

New Demo Services Include Semi-Custom Script Assistance, Audio Production, and Customization.

Voice Over Demo Production Payment is Required In-Full Prior to Start of Any Pre-Production
Ready to order? Pick a voice over demo option below and Anthony will contact you within 24-hours!
(NOTE

: "no refunds" are offered once scripts are delivered, or production begins. all demo orders are final after script creation and/or delivery, or any form of production begins. any

refund offered due to early termination is at the discretion of vo101 and/or its director anthony reece)
AUDIO DEMOS…
VIDEO DEMOS…